Institute Management Software Product features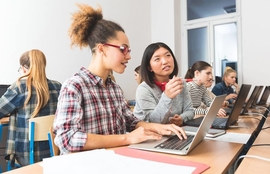 Institute Management Software provides many features which are as follows:-
Student Information System
Automated Registration and Admission process. Also allows to fetch out any Student's details at a single click.
Library Management
Keep Electronic records of Books, Magazines, CDs, DVDs with barcoding for easy issuing and renewal of Books.
Attendance Management
Automate your School's Attendance and generate all types of reports. Also, notify parents of absent students via SMS.
Staff Management
Automate the process of hiring and appointing new Staff with all electronic staff agreements. Manage staff data with ease and efficiency.
Hostel Management
Assign Hostels to Students based on occupancy and requirement. Maintain a seperate Hostel fees and other charges, collection data with electronic receipts for same.
Transport Management
Easy assignation of Transport to Students depending on their location and bus routes. Integrated GPS Tracking system with regular SMS alerts to parents, mentioning the current location of the vehicle to ensure safety.
Email & SMS Alerts
24/7 Transactional SMS service, even on DND activated numbers which helps in quickly notifying parents about various notices and upcoming events in the School.
Online Portals
Dedicated Log Ins for Staff, Parents, Students to access the information on the portal as per their user rights.
Examination Management
Teachers can now upload subject wise marks and generate all grade conversion, student wise result, class wise result and customised report cards at a single click. Our Examination module in CCE enabled.
Accounts Management
Track Stocks and expenses with approval system. Generate Electronic fee receipts, know fee defaulters easily and notify them automatically for quick fee collection.
Inventory Management
Maintain the inventory of various labs, uniforms with proper sale and purchase reports, which can serve helpful for auditing purposes.
Fees Management
Generate Electronic fee receipts, know about fee defaulters and send automated notifications for quick fee collection. Online fees payment can also be made.
35+ Modules
Apart from the mentioned modules, we cater to more than 35+ modules in the complete Institute Management Solution.For Example :Time Table Management, Parking Management and Many More..